Buy Dosist Pen 100 Online 2.5 mg Best Disposable Dose Pen
$35.00 – $45.00
Buy Dosist Pen 100 Online For Sale
Buy Dosist 100 Pen Online
Buy Dosist Vape Pens Online
Available in
Dosist Pen Cartridge Size
50 Doses of 2.25mg of THC Toal: 112mg for $30.00-$45
Compare
Description
Buy Dosist Pen 100 Online
Buy Disposable Dosist Pen 100 Online
Buy Dosist Vape Pen Online
Offered in a range of benefits and potencies, our formulas are engineered to take the guesswork out of cannabis therapy. Dosist vape pen 100 is designed to deliver our safe, effective cannabis-based targeted formulas in a precise dose, each and every time. Our Dosist vape pen flavors include; Bliss, Arouse, Sleep, Calm, Relief, Relax, Arouse THC Plus, Bliss THC plus. The dose pens are top-of-the-line, engineered with user safety and enjoyability in mind. Order our dosist vape pens online and receive the THC and the THC-free dose pen versions.
A closer look at our

dosist

pen technology.
Our 100-

dosist

disposable device.
The

dosist

pen is 100.
The

dosist

pen 100 is our convenient, disposable wellness device.
Engineered for performance, the

dosist

pen 100 is powered by a long-lasting, intelligent battery management system, the latest generation flex circuit technology, a ceramic wick for faster oil saturation, and a medical-grade stainless steel coil for an even temperature ramp.
Our dose pen 100 is made using medical-grade plastics, stainless steel, and ceramic materials for optimized performance and safety.
The dose pen's proprietary design technology controls airflow and heating to produce a consistent 2.5mg dose each time.
A complete dose is measured at three seconds. The dose pen 100 will alert you of a complete 2.5mg dose with a slight vibration and then automatically shuts off.
100doses
the dose pen 100
All dose pen packaging is created using 100% post-consumer recycled materials and is curbside recyclable.
Using the dose pen rechargeable and dose pen 100.
1 Inhale slowly and steadily through the mouthpiece.
2 For a single 2.5mg dose, inhale until the pen vibrates.
3 Stop inhaling once the pen vibrates. The pen will shut off automatically.
Tips for finding the right dose.
Experienced cannabis user
One of these innovations has been the Dose Pen by Dosist. The remarkable vape pen made Time magazine's list of best inventions of 2016. It's safe to say that if not legislatures around the country had relaxed marijuana laws, then something like the Dosist Pen would never have come into existence.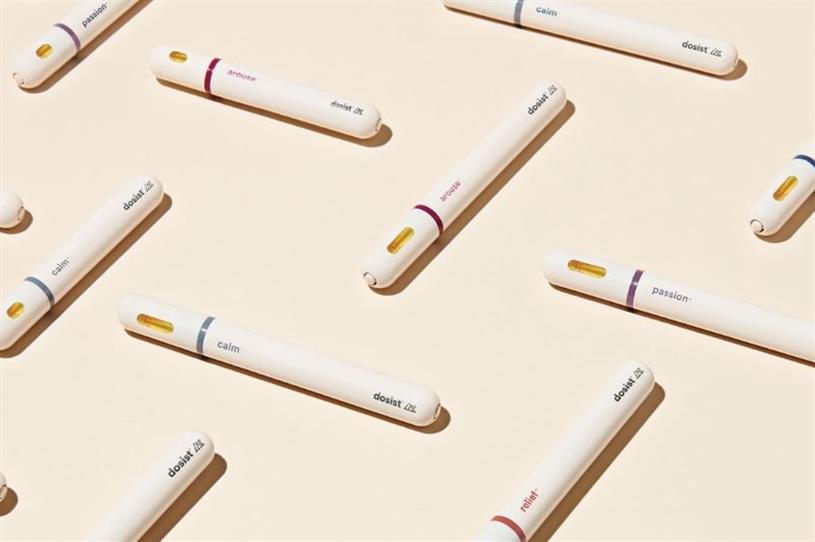 The Dose Pen comes in several formulations, each individually designed to treat or alleviate the symptoms associated with its particular strain. For example, the "sleep" strain of dose pens helps alleviate insomnia and restless sleep. The "passion" is aimed at spicing things up in the bedroom. And the "arouse" strain is supposed to reinvigorate you and leave you excited about life.
Vaping-wise, the Dose Pen works very much like a pod mod or a cig-a-like. Only there's no pod or atomizer to attach, as the Dosist pen comes ready to use out of the package. It's draw-activated and will last you for either 200 or 100 doses (or "puffs").
The Goods
The Dose Pen is currently only available for sale in certified dispensaries in the state of California. sold here online
here's what you'll find inside: One-Dose Pen (either 200 or 100 doses)
The First Look
I decided to go with the "bliss" strain of Dose Pens, which promises a "THC-forward formulation" with a 9:1 ratio of CBD and other terpenes. Terpenes are a new trend in all things marijuana. The more and more of positive benefits of using weed vapes have become more well-known.
Terpenes are organic compounds that occur in many different plants, resins, and herbs. In a small part, they are mostly responsible for the strong, pungent odor of marijuana plants. According to various medical studies, they present medically soothing properties when combined with cannabinoids.
This new formulation of cannabinoids and terpenoids distinguishes the Dosist Pen. The vape goes far beyond just crystallized THC like waxes, CBD oil, or the standard dry herbs. Instead, these blended strains act to diminish THC's psychoactive effect and promote its healthier properties.
Physically speaking, the "pen" is quite similar to an actual pen. Apart from the proprietary magical elixir inside, the Dose Pen has many parts and components like other vaping devices. There are some circular airflow slots on either end of the device as well.
The Dosist pen feels made from high-grade plastic, but the reservoir inside is made of a food-grade material that is leak-proof. In addition, you have a small little viewing window cut into either side of the mouthpiece to check out your oil levels.
There are no buttons or lights anywhere to be found on the pen. Instead, inside the base of the rounded-on-both-ends pen is a tiny, 260mAh lithium-ion battery. It is draw-activated and works for a precise amount of time, which is the duration of each "dose" or puff.
Each dose is designed to deliver precisely 2.5 mg of THC. Once that amount has been reached, the battery triggers a vibration to tell users that the dose has finished.
The Dose Pen: Up Close
While other vaping devices like pod mods or cig-a-likes extol themselves as coming ready to vape, there are still a few necessary steps you have to take before you start vaping. There is no such setup time with the Dosist Pen.
It is supposed to be a device anyone can use, not just vapers of THC or e-juice. So all you have to do to start vaping with the Dose Pen is just to put it to your lips and start inhaling. Yours inhales, as I mentioned, measured out in timed doses of 2.25mg.
The device stops working after three seconds or when you feel the pen vibrate. Dosist recommends only taking three hits or doses every hour, but I imagine not everyone will be sticking to that three-hit/hour limit.
Vaping With the Dose Pen by Dosist
I vaped with the Dose Pen for about two weeks (with a $100 price tag, you don't want to plow through this in one day). But, I mean, what do you like with a device like this? It's not exactly supposed to appeal to hardcore vaping tech-heads, even though it is quite a technological marvel.
But, it's a technology that's divorced from the user since you have no role in adjusting or customizing it since all you have to do is start taking draws. Nevertheless, the dose pen wins points for being the most comfortable device anyone could ever use.
With a minuscule battery inside, you're not assured many clouds, even though you do get a slight mouth-to-lung vapor trail. So I wasn't expecting to detect any flavor profiles, but I did note some rich, piney flavors in my cloud.
Now, regarding effects, there were some. The "bliss" strain promises a THC-dominant liquid, with nearly 88% of the oil comprised of THC, but I wasn't put into a coma.
I did go against the recommended dosages and took a few more hits above the three-hit recommended maximum, and I found it was a somewhat mellow trip. I was lightly spaced while not exactly busting out of the bounds of gravity.
Dose Pen Specifications
Dose Pen
Compatibility:
Oil
Doses:
100 and 200 doses
Pod Capacity:
2.5 mg
Heat-Up Time:
3 seconds
Power Source:
Rechargeable
Final Thoughts
On a technological level, the Dose Pen is quite astounding. The Dosist Pen is perhaps the most advanced feat of this new weed age. But in trying to normalize weed and weed use, the Dosist took it a little too far on the medicinal tip. I wholeheartedly support medical marijuana use, but treating weed as medicine, like the Dose Pen does, takes a bit of the fun out of it.
Of course, the Dose Pen is ideally suited for all kinds of wellness purposes. I could see a never-smoker turning to the pen for various reasons. And not feeling intimidated or ashamed to use it since it comes in such a non-threatening package.
The antiseptic, colorless package of the Dosist Pen didn't appeal to me. However, it was interesting to try it out and have a reason to take a weekend trip to California.
Additional information
| | |
| --- | --- |
| Our Dosist 100 Flavors | Arouse Dosist Pen 100, Passion Dosist Pen 100, Calm Dosist Pen 100, Sleep Dosist Pen 100, Bliss Dosist Pen 100, Relief Dosist pen 100, Bliss THC Plus Dosist Pen 100, Arouse THC-plus Dosist Pen, Relax THC Plus Dosist Pen 100, Dosist x Bear Extracts pure live resin – Orangeade, Dosist x Bear Extracts pure live resin – icc x cookies, Dosist x Bear Extracts – Banana Kush, Dosist x Bear Extracts dose pen – Caramel Cream |