Buy Kiva Chocolate Bars Online Best 60-180mg THC
$15.00 – $26.00
Buy Kiva Chocolate Bars Online
Kiva Chocolate Bars
Chocolate Bars
Get Kiva delivered to your door
KIVA™ Chocolate Bars 60-180mg THC
The chocolates that raised the bar for cannabis edibles everywhere, made from a decadent combination of cacao and cold water hash. These are the premier chocolate bar edibles.
Compare
Description
Buy Kiva Chocolate Bars Online
Kiva Chocolate Bars
Our signature brand of decadent cannabis chocolate bar edibles
Call this new-fashioned, but we think an edible is only as good as its ingredients. So we carefully craft each bar using sustainably-sourced cacao, all-natural flavors, and clean, pure cold water hash for a richer, fuller cannabis experience that captures the essence of the whole plant.
Kiva has used cold water extract in all chocolates to create an unparalleled edible experience. Not only does this process preserve the terpenes for a full spectrum,  whole plant cannabis experience, it boasts a superior taste that both chocolate and cannabis connoisseurs alike will love. 20 servings per bar
Kiva Confections information
They create cannabis-infused confections and they are one of the most recognized medical cannabis companies in California. This is mainly due to the high-quality chocolate which Kiva Confections creates.
The company was born out of a need for an edible product that was potent, consistent, and enjoyable to consume. In early 2010 the cannabis edible market was desperately underserved; the products available were untested, unlabeled, and inconsistent in potency.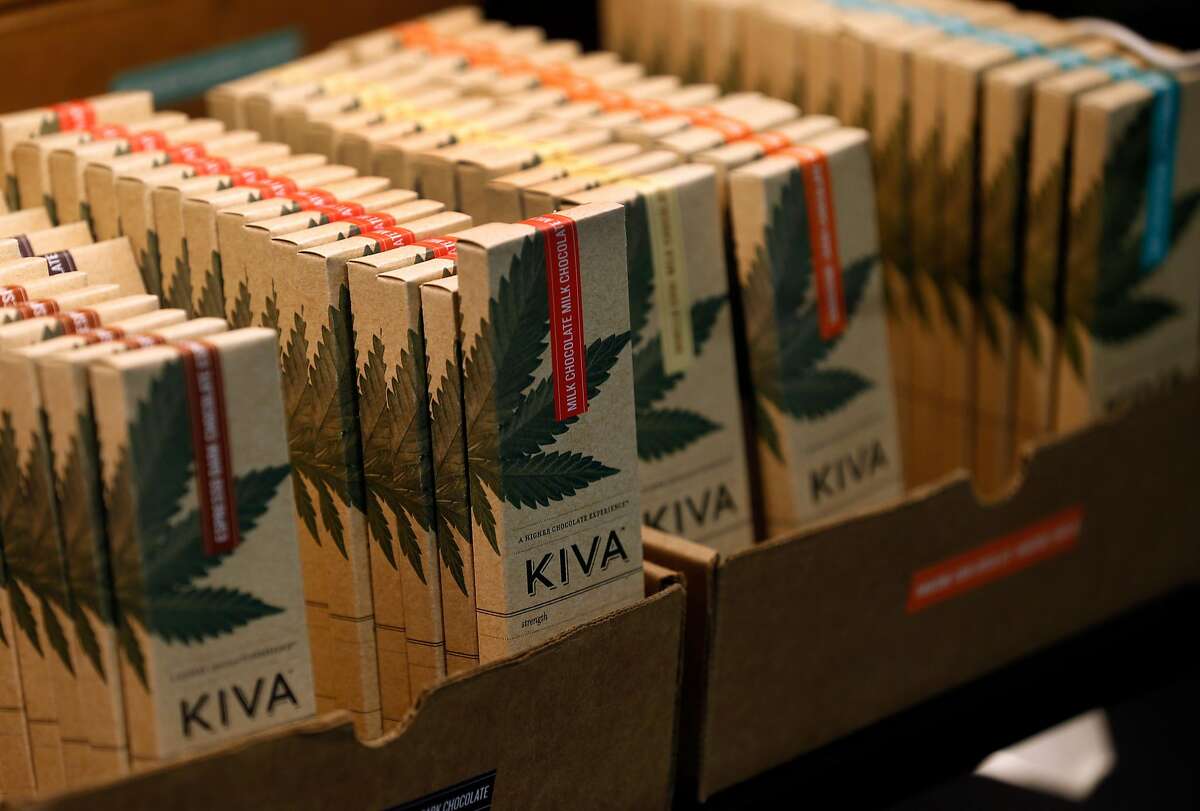 To solve this problem, founders Scott Palmer and Kristi Knoblich began exploring novel approaches to medicating through food. After visiting a local chocolatier, the lightbulb went off. Working with expert cannabis cultivators, certified analytics laboratories, and a lot of trial and error, KIVA was born.
To accompany the new product, the founders developed a mission statement that would go beyond simply delivering a better edible. It included a commitment to efficacy, food safety, and business integrity which continues today.
After 9 months of careful development, KIVA Confections was launched. Immediately patients took notice and fell in love with the product for its certified potency, incredible taste and informative packaging.
Since then the company has grown to encompass over a dozen varieties of chocolate edibles with a loyal customer base throughout hundreds of dispensaries in CA and growing. Its artisan confections have garnered multiple awards and recognition in the marketplace including Best Edible at both the San Francisco and LA High Times Cannabis Cups in 2013.
Dedicated to quality, food safety and compassionate care, KIVA continues to redefine the edible cannabis category and lead the way in developing premium quality, great tasting products that deliver certified amounts of medicinal cannabis within a delicious, artisan-inspired chocolate recipe.
Find your favorite flavor
---
Buy Kiva Toffee Crunch Dark Chocolate Online
Toffee Crunch Dark Chocolate: 54% dark chocolate topped with buttery toffee and a sprinkling of Pacific sea salt. Rich and decadent, with a salty finish that invites another bite. The toffee is locally made by Barlovento Chocolates in Oakland.
Get Kiva delivered to your door
KIVA Confections™ is a California based not-for-profit collective. We make only the highest quality medical edibles for patients, crafted from all natural ingredients and skillfully combined with cannabis, lab-testing every batch to ensure consistent THC potency. We hope you enjoy our confections as much we love making them.
Additional information
| | |
| --- | --- |
| Find your Favorite Flavor | Kiva Milk Chocolate, Kiva Dark Chocolate, Kiva BlackBerry Chocolate, Kiva Dark Chocolate CBD 5:1, Kiva White Chocolate & Raspberries, Kiva Churro Milk Chocolate, Limited Edition Peppermint Bark, Kiva Mint Chocolate Chip Dark, Kiva Espresso Dark Chocolate CBD 1:1, Kiva Toffee Crunch Dark Chocolate, KIva Midnight Mint Dark Chocolate CBN |