Buy Pabst Blue Ribbon High Seltzer 10MG THC
$26.00
Buy Pabst Blue Ribbon High Seltzer Online
Pabst Blue Ribbon High Seltzer
PBR Meets THC: Pabst Blue Ribbon Cannabis-Infused Seltzer
PBR High Seltzers: 4-Pack Bundles
Pabst Blue Ribbon High Seltzer 10mg THC beverage offers consumers a more potent version of its 5mg drink for a more heightened beverage experience.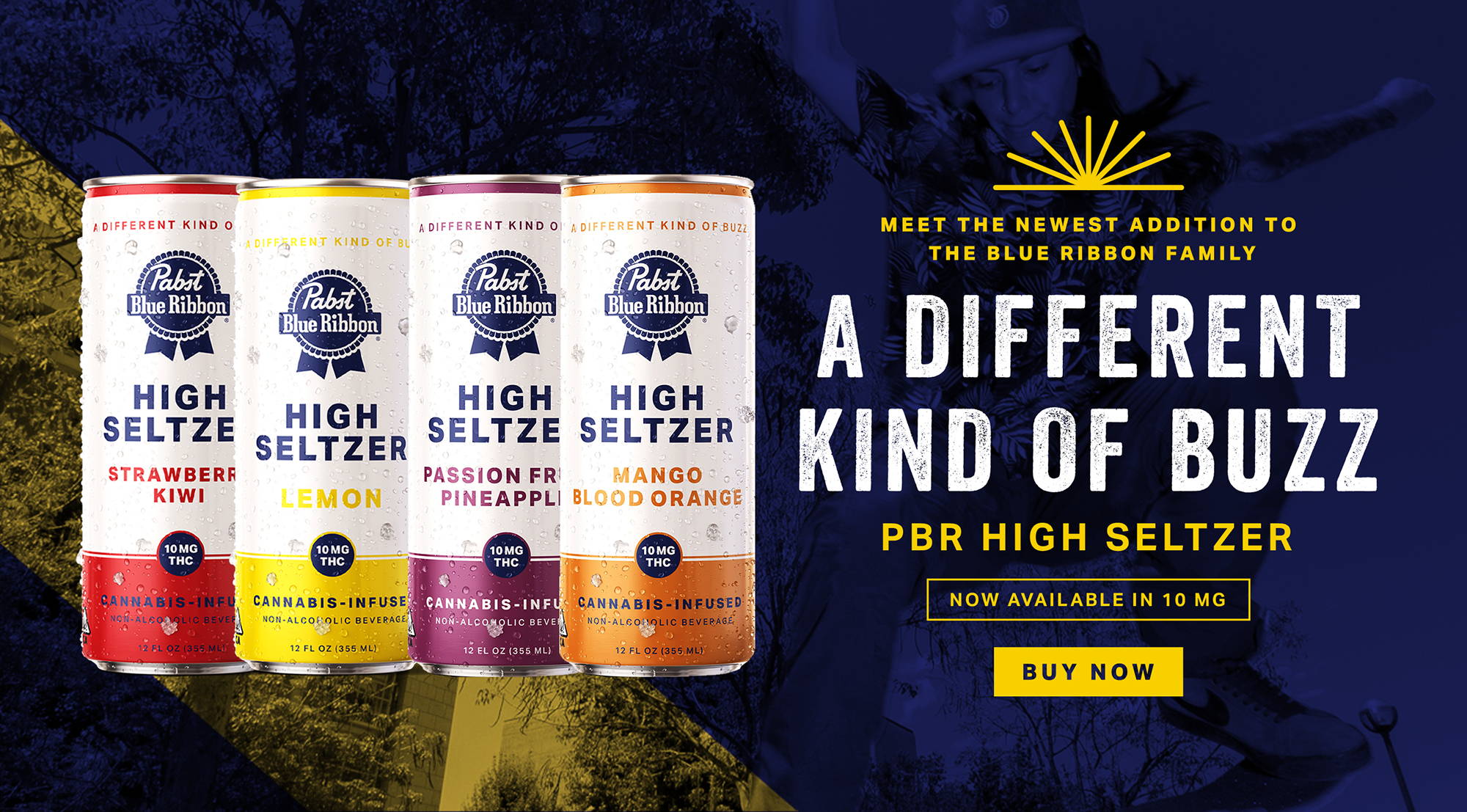 PBR name debuted on a new cannabis drink from Pabst Labs. Pabst Blue Ribbon High Seltzer was born (available in California to the chagrin of many).
Pabst Blue Ribbon High Seltzer is one of California's top-selling THC-infused beverages.
Beyond its eponymous Pabst Blue Ribbon 10mg High Seltzer, Pabst also produces Not Your Father's Cannabis Infused Root Beer and the St. Ides Cannabis product line (which includes their 100mg infused four-ounce shots).
Compare
Description
Buy Pabst Blue Ribbon High Seltzer Online
Pabst Labs Opens Cannabis-Focused Beverage Factory, Triples Capacity for THC-Infused Drinks
For generations, Pabst Blue Ribbon was a simple brand struggling to survive on its legacy before hipsters embraced that old-school attitude and returned the beer to prominence over the past couple decades. But over the past couple years, PBR has drastically rewritten its ethos.
No longer a single lager, in 2019, Pabst began rolling out new variations on the beer: higher strength Extra, lower strength Easy, and no strength Non-Alc. Then, PBR pivoted from beer entirely, introducing PBR Hard Coffee. That launch proved popular enough that Pabst followed with similar products like PBR Hard Tea and PBR Hard Cold Brew. Meanwhile, PBR also jumped into the trendy hard seltzer category with PBR Stronger Seltzer. And not to mention, even stronger, PBR released its own whiskey.
Los Angeles, CA – Last Fall, Pabst Labs shook up the cannabis beverage space and beyond when it debuted Pabst Blue Ribbon High Seltzer, a 5mg THC infused cannabis seltzer. The famed Blue Ribbon entering the industry was a game changer. Now just in time for summer, Pabst Labs is springing another surprise by unveiling its 10mg THC line of Pabst Blue Ribbon High Seltzers, and announcing new exciting new flavors in addition to its original lemon: Strawberry Kiwi, Raspberry and Mango coming this summer.
Pabst Blue Ribbon High Seltzer 10mg THC beverage offers consumers a more potent version of its 5mg drink for a more heightened beverage experience.
Meet the newest edition to the Blue Ribbon family. Find a different kind of buzz with PBR High Seltzer 4-pack bundles.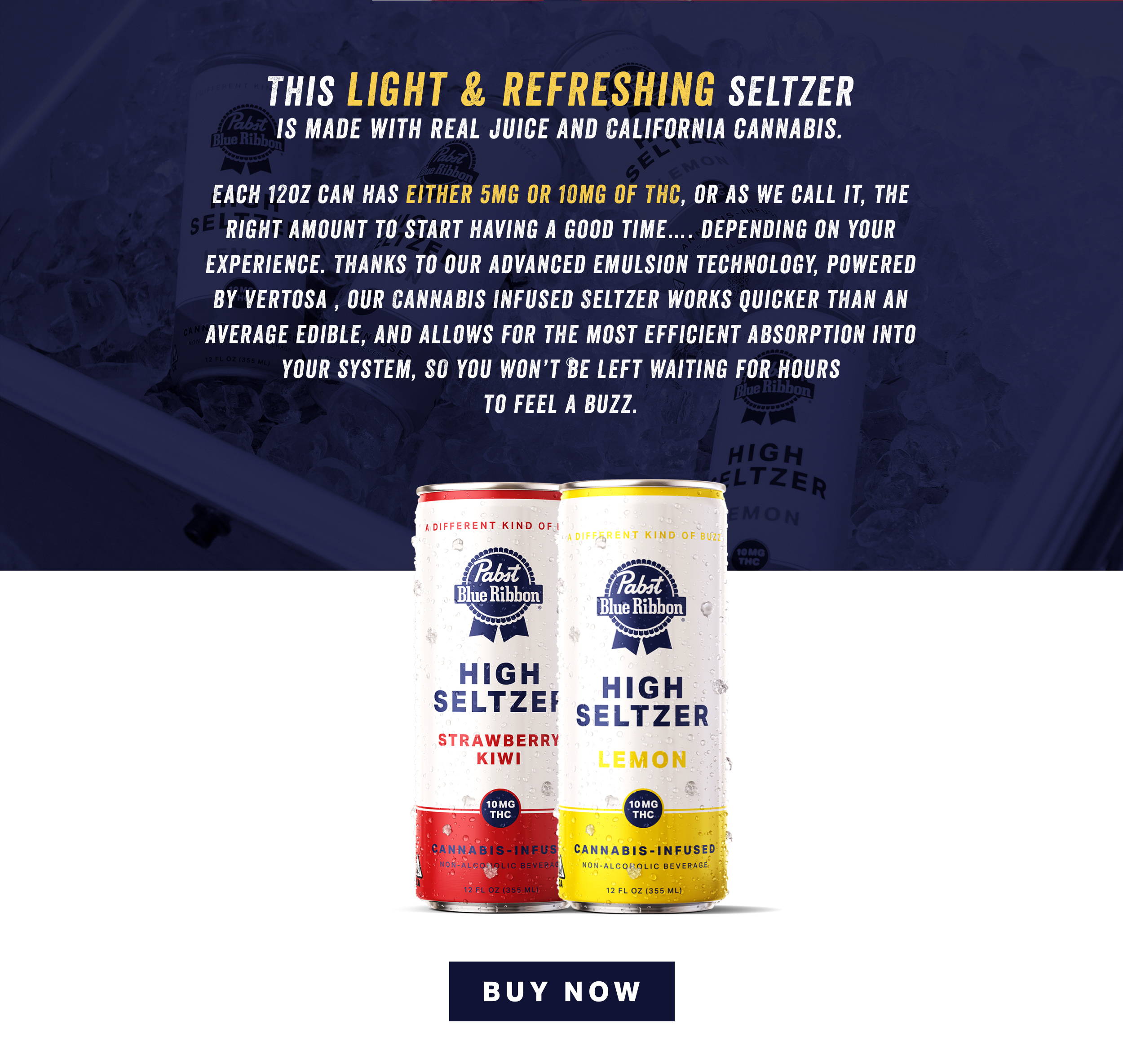 The High Seltzer lineup now consists of a lemon 10mg THC and lemon 5+5 (5mg THC+5mg CBD) for a more relaxed and balanced experience. Both dosing options still only contain 25 calories, 4g sugar and contain no preservatives. At their core, Pabst Blue Ribbon High Seltzers remain approachable, delicious, and hangover free beverage alternatives that offer consumers a different type of buzz.
Pabst Labs, is honored to continue pioneering the cannabis space through the expansion of their superior line of THC infused drinks under the Pabst Blue Ribbon name.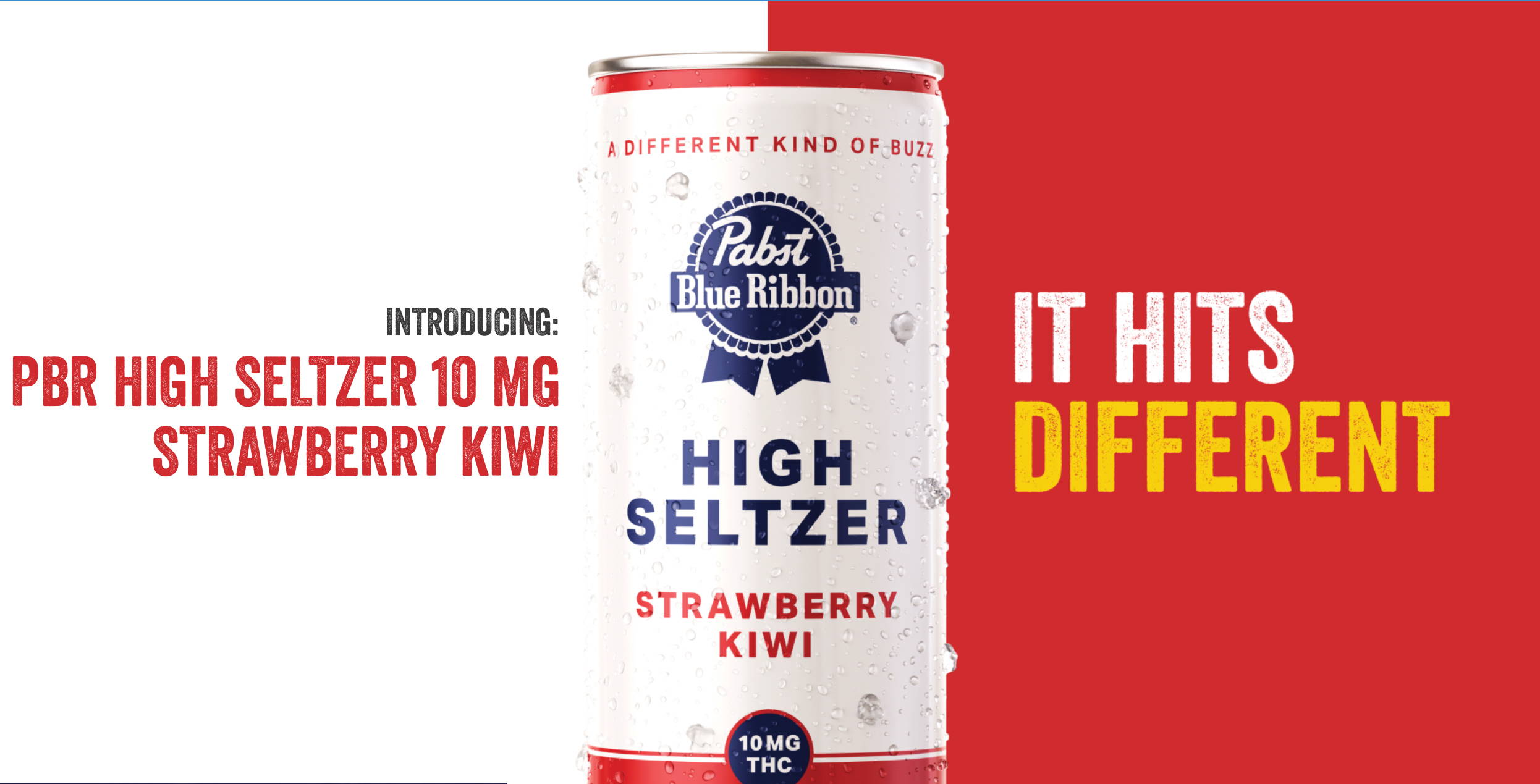 "The PBR brand has been quickly welcomed into the cannabis space as a beverage that can be enjoyed by both new and experienced users. Since the debut of PBR High Seltzer, more experienced consumers have been outspoken about their desire for a higher THC dose offering.
We've been listening and are proud to offer an elevated experience through our new 10mg THC PBR High Seltzer, and are ecstatic to offer it to them at the same price point alongside the original 5+5 Lemon High Seltzer." – Mark Faicol, Brand Manager – Pabst Labs
Pabst Blue Ribbon 5+5 and 10mg THC High Lemon Seltzers are now available in a select group of California dispensaries and are available for delivery to California consumers through orders made on Pabst Labs website. The three new Strawberry Kiwi, Raspberry, and Mango flavors will roll out this summer.
Needless to say, it's been an insanely busy two years for the once proudly stagnant brand, and if you're wondering if PBR has any other tricks up their sleeve—and what on Earth could even be left—well, a mere two weeks after announcing the launch of their cold brew, PBR is already back with an even more outside the box product: PBR with THC.
Announced today, Pabst Blue Ribbon Cannabis Infused Seltzer is a non-alcoholic, THC-infused lemon seltzer packed with five milligrams of marijuana's main active ingredient in each 12-ounce can. The resulting beverage is billed as offering up "a responsible dosage designed to make it a go to drink for both casual and experienced cannabis users," while keeping waistlines slim with just 25 calories and four grams of sugar per serving.
If you're wondering what a 175-year-old beer brand knows about pot, well, admittedly, not a ton. Though the new seltzer bears the PBR name, the product—which has been in development for a couple of years—actually comes courtesy of a newly-founded, cannabis-focused entity called Pabst Labs.
"Until the legal landscape changes, we can't produce this in-house, but the formation of Pabst Labs, a licensed cannabis operator, involving former Pabst Blue Ribbon employees and cannabis beverage experts, gave us a unique chance to grant the use of our brand to a cannabis savvy group that we could trust to develop an infused drink worthy of the Blue Ribbon," Seamus Gallagher, senior brand manager for PBR, told me via email. As such, Pabst Labs is the one handling production, marketing, and sales of the new drink.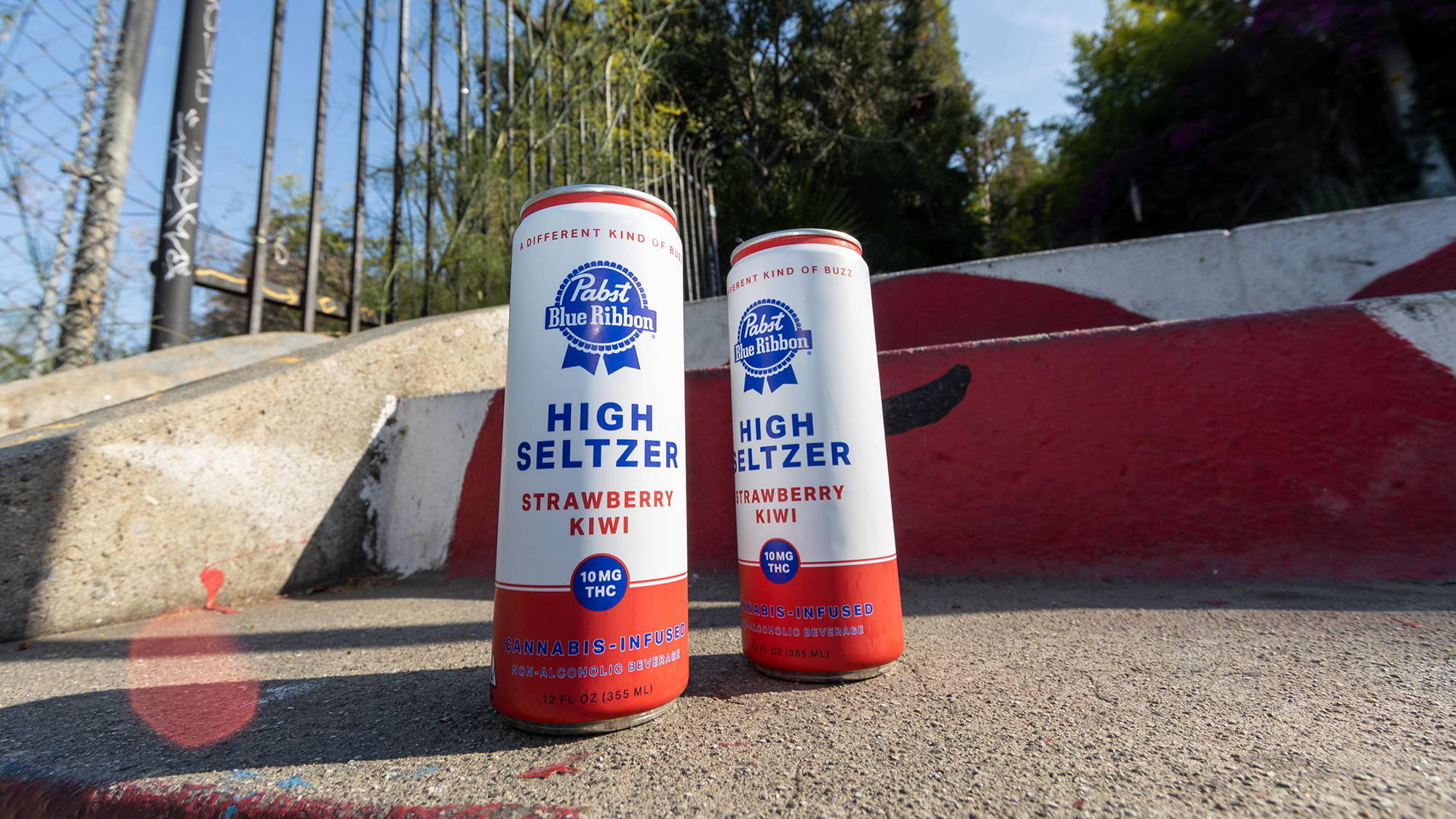 And speaking of sales, no, don't expect to find this more legally-restricted beverage everywhere PBR is sold. Instead, PBR Cannabis Infused Seltzer is debuting at select California dispensaries or directly to California consumers online on the Pabst Labs website. There, a four-pack will set you back $24.
"Pabst Blue Ribbon has an incredibly loyal and passionate customer base who are open to change and embracing new ideas," Mark Faicol, Pabst Labs brand manager, explained. "Though this is a limited initial launch, we've had a really enthusiastic and positive response from dispensaries and customers, and are looking forward to a wider roll out in the coming months. For over 175 years the Blue Ribbon has connected fans across generations around its products, and we think customers, new and old, are going to love the chance to experiment with something different from a brand they trust."
And yet, with such a sudden shift to such a wide range of products, is this even the same PBR we know and love? Gallagher simply framed the answer as PBR getting more interesting. "Pabst Blue Ribbon has been busy creating lots of exciting new drinks that are creative and celebratory," he told me. "We're really excited to keep innovating and give Pabst Blue Ribbon fans the chance to try something fun and new." Let the good times roll.
Part of the appeal of Pabst Blue Ribbon is the brand's underdog story. Practically forgotten by the turn of the millennium, a groundswell of support helped bring the brand back to its current prominence. And yet, though the Pabst beer brand has faced a rocky road over the years, the Pabst Labs line of cannabis beverages is hoping to lead from the front.
Though not the first cannabis beverage with a beer pedigree, the hope was that the PBR brand would have crossover appeal with the marijuana crowd. And apparently, Pabst was right. Last week, Pabst Labs announced they were opening a new "cutting edge manufacturing facility and distribution center" in Desert Hot Springs, California — further described as "one of the few dedicated cannabis beverage facilities in America" — which will allow the company to more than triple its production capabilities.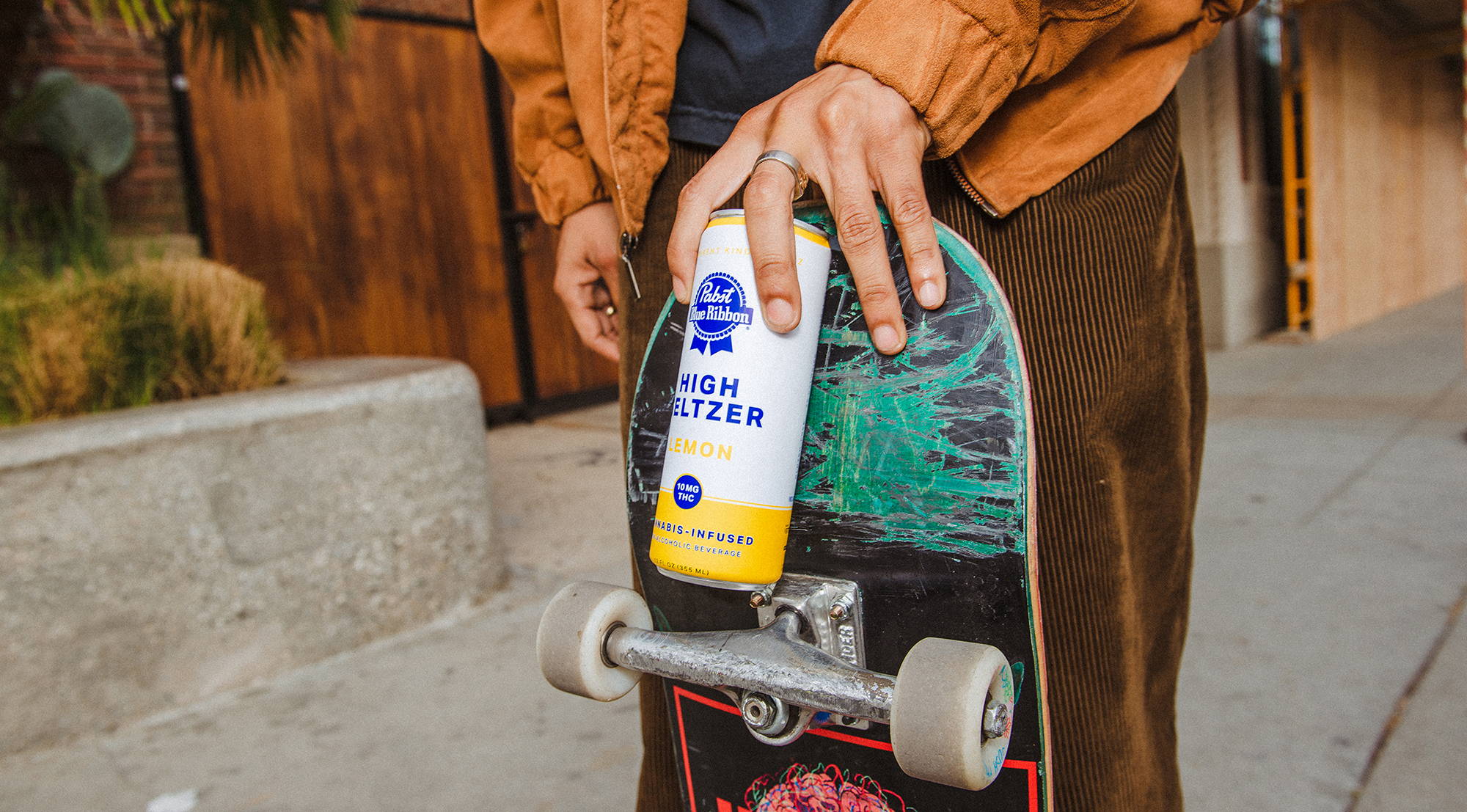 "Leveraging over twenty years of beverage manufacturing experience, the goal while building our factory was to establish a standard for quality and efficiency that would set the bar in all cannabis infused beverages facilities for years to come. It's a game changer," explained Chuck Barlick, Pabst Labs' director of production. "[The new factory] will operate under customary world-class manufacturing practices such as HACCP, SQF, GMPs, Lean Manufacturing and Visual Work Instructions."
Beyond its eponymous Pabst Blue Ribbon 10mg High Seltzer, Pabst also produces Not Your Father's Cannabis Infused Root Beer and the St. Ides Cannabis product line (which includes their 100mg infused four-ounce shots). Other brands will be allowed to access the facility through co-packaging relationships, as well, which Pabst says should help "raise beverage quality and opportunity across the industry."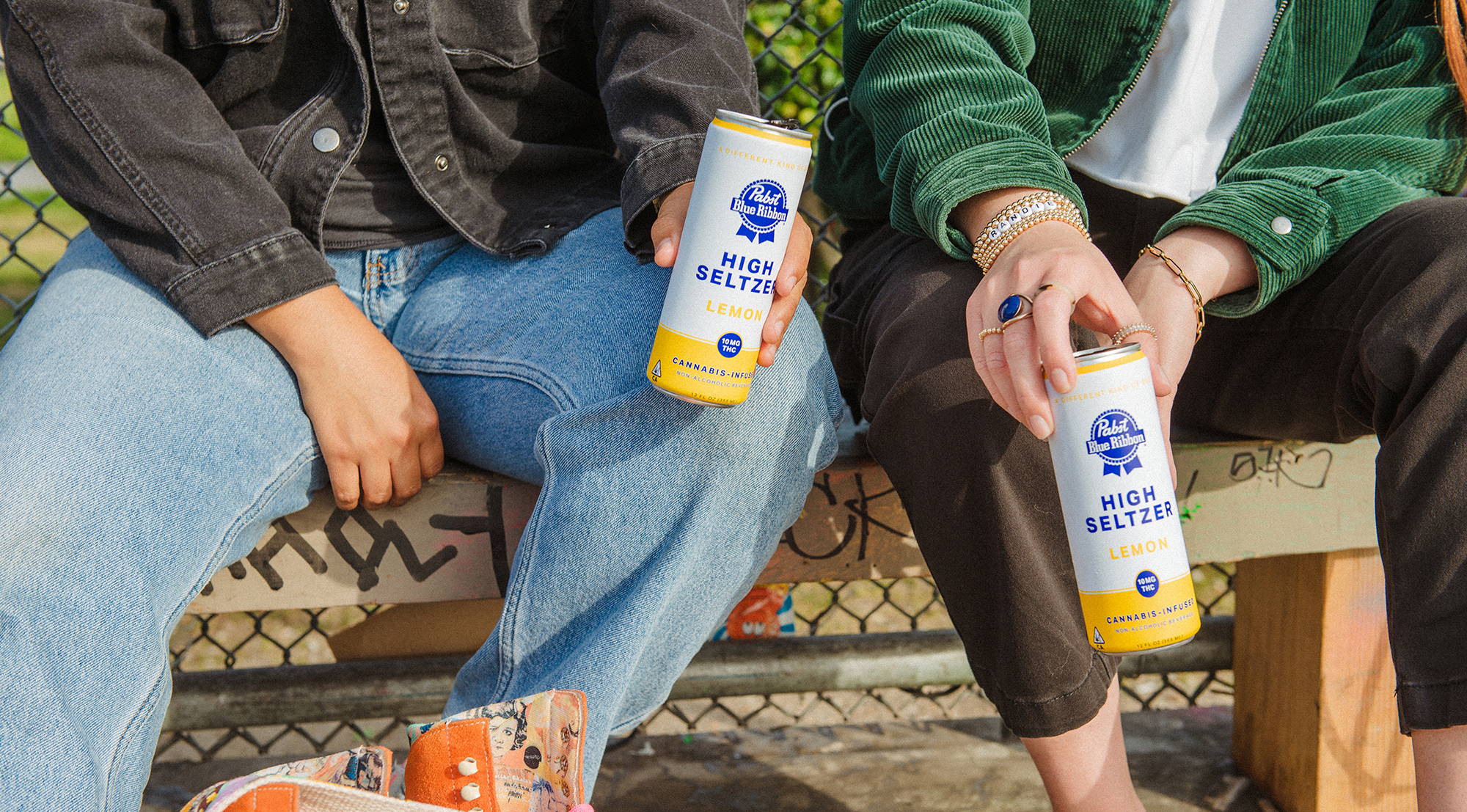 Pabst said data shows that THC-infused beverages are seeing a 40 percent growth rate, the fastest growing category in the cannabis industry, according to the Cannabis Beverage Association (CBA). Additionally, data from the cannabis-focused analytics company Headset suggests that PBR High Seltzer is one of the top-selling THC-infused carbonated beverages in California.
Additional information
| | |
| --- | --- |
| Flavors | Lemon 4-Pack (40mg), Strawberry Kiwi 4-Pack (40mg), Passion Fruit Pineapple 4-Pack (40mg), Mango Blood Orange 4-Pack (40mg), Raspberry 4-Pack (40mg) |