Sale!
Buy Stiiizy Biiig Battery Online Best 550mAh
Buy Stiiizy Biiig Battery Online
Stiiizy Battery Biiig

STIIIZY BIIIG 550MAH BATTERY – VAPE POD SYSTEM VAPORIZER
Stiiizy Biiig is the second version of the Stiiizy vaporizer featuring a larger battery capacity and performing much better than the original version.
Stiiizy Biiig is a little larger than the first version though nicely fits in the palm, it also has improved magnetic connection and airflow. Stiiizy Biiig has an upgraded 550mAh battery that produces 3.4V and can be charged via a micro-USB port. The battery is sold without the cartridge.
Compare
Description
 STIIIZY BIIIG Battery
STIIIZY is one of the fastest-growing cannabis brands in California. They're well-known for their ease of use, including magnetic snap-on pod batteries.
Buy Stiiizy Biiig Battery Online
introducing the new generation of modern THC delivery systems. STIIIZY BIIIG Vaporizer is the second version of the STIIIZY vaporizer featuring a large 550mAh battery, magnetic connection, and airflow. STIIIZY is revolutionizing the cannabis industry by creating a product that offers a discreet experience built for portability and convenience.
STIIIZY offers premium quality concentrates that uphold a high level of potency and purity. STIIIZY is setting the industry standard to influence and inspire through innovative methods. The BIIIG  STIIIZY features a larger 550mAh rechargeable battery with a maximum voltage of 3.6V for extended vape time with big hits!
STIIIZY BIIIG Vaporizer Advanced Kit: Main Features
Buy Stiiizy Biiig Battery Online
550mAh Rechargeable Battery
Voltage: 3.6+-0.1V
Available in Black, Blue, Green, Red, Gold, Orange, and Rose
The brand's growing popularity is made possible by top-tier cannabis concentrates, a must for any cannabis company looking to stand out among the sea of competitors. To do so, the company aims to live up to a philosophy centered on "Influence, Inspire, Innovate."
Buy Stiiizy Biiig Battery Online
What kind of batteries does STIIIZY use?
Official STIIIZY BIIIG Battery
Official STIIIZY Portable Power Case
STIIIZY Replacement Power Case Adapter
Are STIIIZY batteries good?
What battery fits STIIIZY pods?
How to use your STIIIZY battery
Is it okay to leave STIIIZY pods in the battery when not in use?
Proper care of your STIIIZY battery
Suited for the needs of newcomers and veteran vapers alike, STIIIZY aims to appeal to the entire vape community. They're allowing customers to do the same with a variety of aesthetic options and two battery sizes. Read on to learn more about STIIIZY's pod battery, where we'll dive into the brand some more and answer critical questions, including:
How long do STIIIZY batteries last?
What battery fits STIIIZY pods?
Is it OK to leave a STIIIZY pod in my battery?
Are STIIIZY batteries good?
Buy Stiiizy Biiig Battery Online
Official STIIIZY BIIIG Battery
ADVANCED KIT INCLUDES:
Official BIIIG STIIIIZY Battery
USB Charging Cable
550mAh Rechargeable Battery
USB Charging Port
Voltage: 3.4+-0.1V

*Pods sold separately
$45
The company's more robust yet still sleek offering is the Official Biiig Battery. Boasting an enhanced 550mAh USB-rechargeable battery, the Biiig Battery is ideal for the more experienced vapers out there. The Biiig Battery is also set to 400F and available in 11 colors. Pods are sold separately.
Stiiizy Advanced KIT
Official STIIIZY Portable Power Case
$50
The portable power case is a high-speed magnetic-based USB charging case for your STIIIZY Starter Kit and pods. The Portable Power Case boasts a 750mAh battery capacity and can hold one Starter Kit during a charge. Keep track of the process with its built-in LED screen.
STIIIZY Replacement Power Case Adapter
$5
Sometimes we lose tiny pieces of tech. Having a backup for just a couple of dollars is never a bad idea. Make sure your STIIIZY pod battery is always rechargeable with a backup power adapter. All other parts are sold separately.
Are STIIIZY batteries good?
Buy Stiiizy Advanced KIT
Yes! STIIIZY often receives high praise for several product components, including their ability to make batteries more efficient for a range of consumers. STIIIZY's batteries stand out for their:
Long product lives
Leak and burn-free reputation
Easy rechargeability
Consistent heating
Colorful, sleek options
Both batteries are sleeker than most others around, and they don't need to be charged as often. Consistent performance is often cited, with both batteries made of high-quality ceramic coils and an easy-to-use magnetic USB base.
What battery fits STIIIZY pods?
STIIIZY batteries only work with the company's line of half and full-gram pods. The 210mAh classic options come in 12 colors, and the extra-large 550mAh BIIIIG Battery includes 11 colors to choose from.
Buy Stiiizy Biiig Battery Online
How to use your STIIIZY battery
STIIIZY's proprietary batteries are about as easy to use as one can imagine. With magnetic components, pods snap into place whenever brought near the battery. Once in place, pull at your discretion and enjoy.
Plug the provided USB cable into the charging station and your battery port when a charge is needed. The LED screen will blink twice when appropriately connected and red if there is a connection error. Once charging, occasionally monitor the LED screen for the charging status. Red indicates your battery is charging, and white means it's ready for use.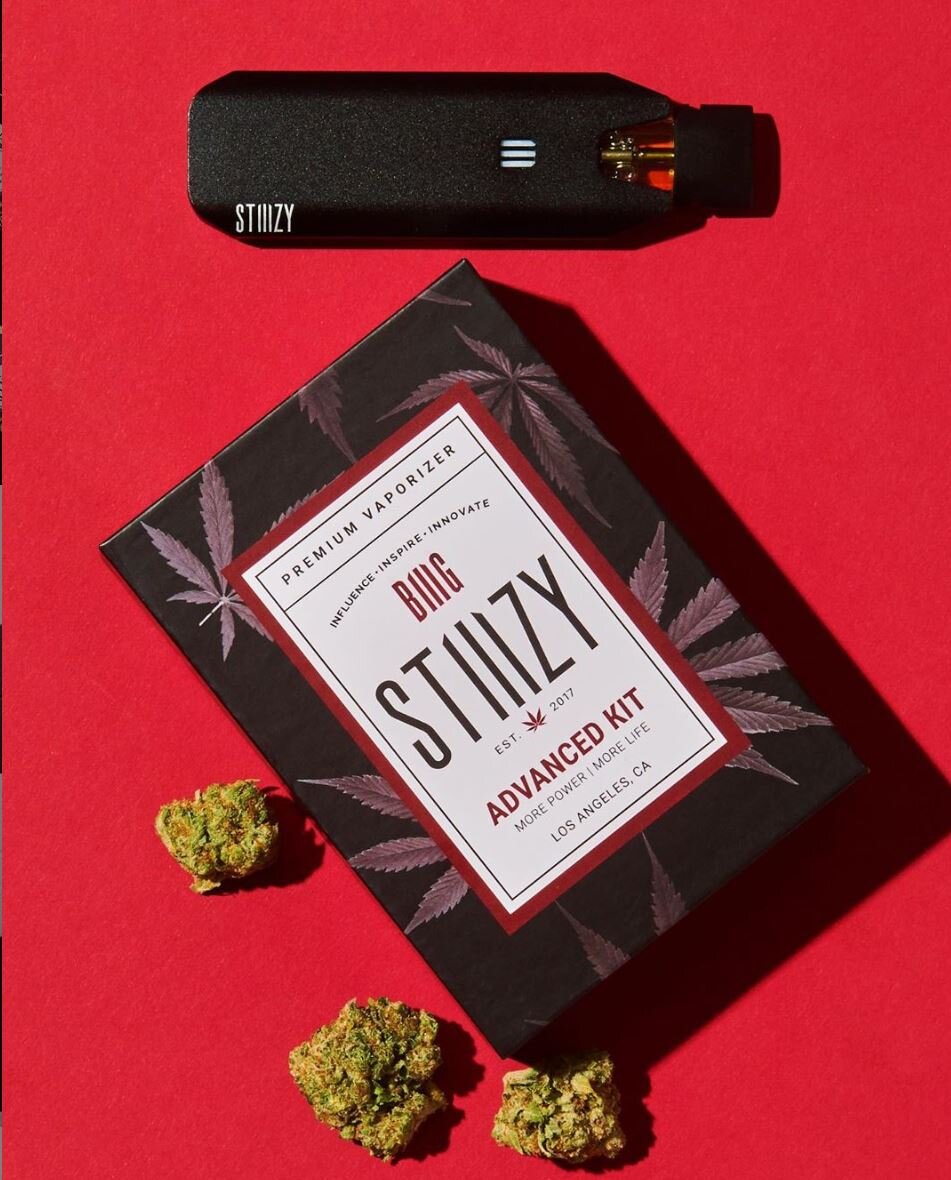 Remove the battery from the port before using it to avoid any product mishaps. Make sure it isn't connected to your charging port or risk damage to your battery.
Is it okay to leave STIIIZY pods in the battery when not in use?
Generally, it's not a good idea.
Stiiizy Biiig Battery
Storing pods in batteries isn't the best idea when using STIIIZY or any other vape products. When left inserted, pods can gunk up after being left upright and static for too long. Often, you'll notice pulling from the battery can become difficult or impossible after being left in this state. Sometimes, carts and pods can also leak when left upright, potentially making a mess of your battery and the surrounding area.
Proper care of your STIIIZY battery
It's all about proper use and storage. First and foremost, replace your pods before they burn out or risk overheating.
Then, take care of your STIIIZY battery the same way you would most vape products. Keep the battery clean, performing spot cleanings after use, or at least once a day or week, depending on your usage.
Do the same with your carts and pods, ensuring that the mouthpiece remains free of any obstructions. If obstructions persist, perform a "dry pull," or pull on the pod while detached from the battery. Also, try cleaning any minor leakage with a cotton swab and alcohol.
Once clean, store both components in cool, dark places to avoid product degradation through exposure to sunlight, air, extreme heat/cold, and other elements. Avoid storing pods upside down.
Stiiizy Battery biiig
How long do STIIIZY batteries last?
When properly maintained, STIIIZY batteries can last between 2 and 3 years, according to frequent consumers. If you find your product isn't performing up to its original functions before the 2-3 year mark, contact [email protected] for troubleshooting and additional steps.
If you'd like to buy STIIIZY products at a 40% to 60% discount, along with California's other leading brands of cannabis products, sign up for Nugg Club today! You'll get $225 worth of top-shelf cannabis products, hand-tailored to your preferences, for just $99 with unlimited access to their add ons marketplace.
Additional information
| | |
| --- | --- |
| Colors | Black, Blue, Camo, Gold, Green, Orange, Purple, Red, Rose, Silver, Rose Gold |